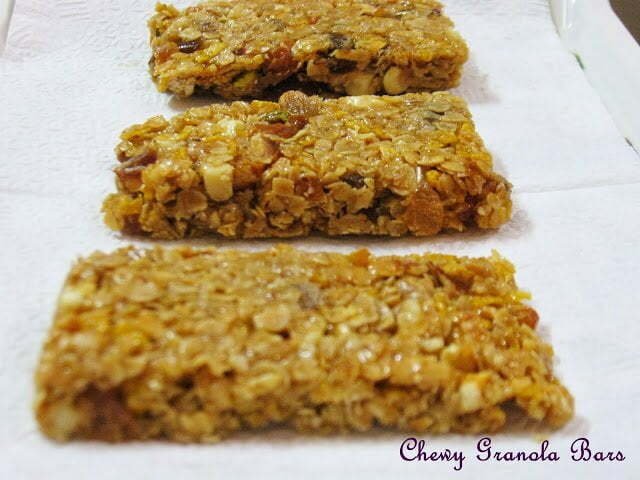 Granola Bars
I wish all my readers a very happy and Prosperous New Year 2014! On the New Year Day ,I always make resolutions like going to gym ,going for a morning walk,eating healthy and
many more to keep myself fit but i never follow it regularly and struggle hard to keep up my resolutions and finally give up.I always think this is the first day of the year and indulge myself in eating all cakes and pastries ,thinking i'll follow a strict diet regime from the next day,but it never happened.So i thought this year let me start my day with a healthy Granola Bars. And this recipe is dedicated for all those people like me who have resolutions to keep themselves fit .

Ingredients:
Category:Vegetarian|Course:Snack|Cusine:Fusion
PrepTime:5 Minutes|Cooking Time:8 Minutes|Makes:8

Oats:1 Cup
Corn Flakes:⅓ Cup
Dry Fruits:⅓ Cup
Dry Nuts:¼ Cup
Honey:⅓ Cup
Brown Sugar:1Tbsp
Water 1 Tbsp
Butter:1 Tbsp
Liquid Glucose:1 teaspoon (optional)
Vanilla Essence:¼ Tsp

In a nonstick pan dry Roast oats,cornflakes and all the dry fruits and nuts.Once oats truns to change colour and nice aroma comes,turn off the heat and keep it aside.




In the same pan add butter,once it melts,add honey,sugar,water and liquid glucose.


Once it starts bubbling add roasted oats and nuts mixture and mix well such that syrup coats the entire mixture.




Turn off the heat and transfer the entire mixture on to a butter paper and spread the mixture in a rectangular form by straightening the edges.Once done ,close it with another butter paper and tap it hard using a spatula or hand.




Give standing time of 10 minutes,once cooled cut it into bars.And store it an air tight containers.





My Notes:
Liquid Glucose is optional,it helps to harden the bars.If you are not using liquid glucose use 2 Tbsps more of honey.

Once bars are done you can bake the bars in preheated oven at 200 deg cel for 7 minutes,so that bars becomes more crispier
Copyright Your Blog Name 2009 at palatesdesire.blogspot.com