Huruli Bas Saaru and Hurali Bas Palya is most popular dish around Bangalore - Mysore regions of Karnataka. This is one of the authentic recipe and very common in most of the villages . Bas or Basidu in kannada means strain the stew ,as we prepare a curry ( Saaru) out of the stew it has got the  name Bas Saaru. Generally it is served along with RagiBalls( Raggi Mudde) and Rice.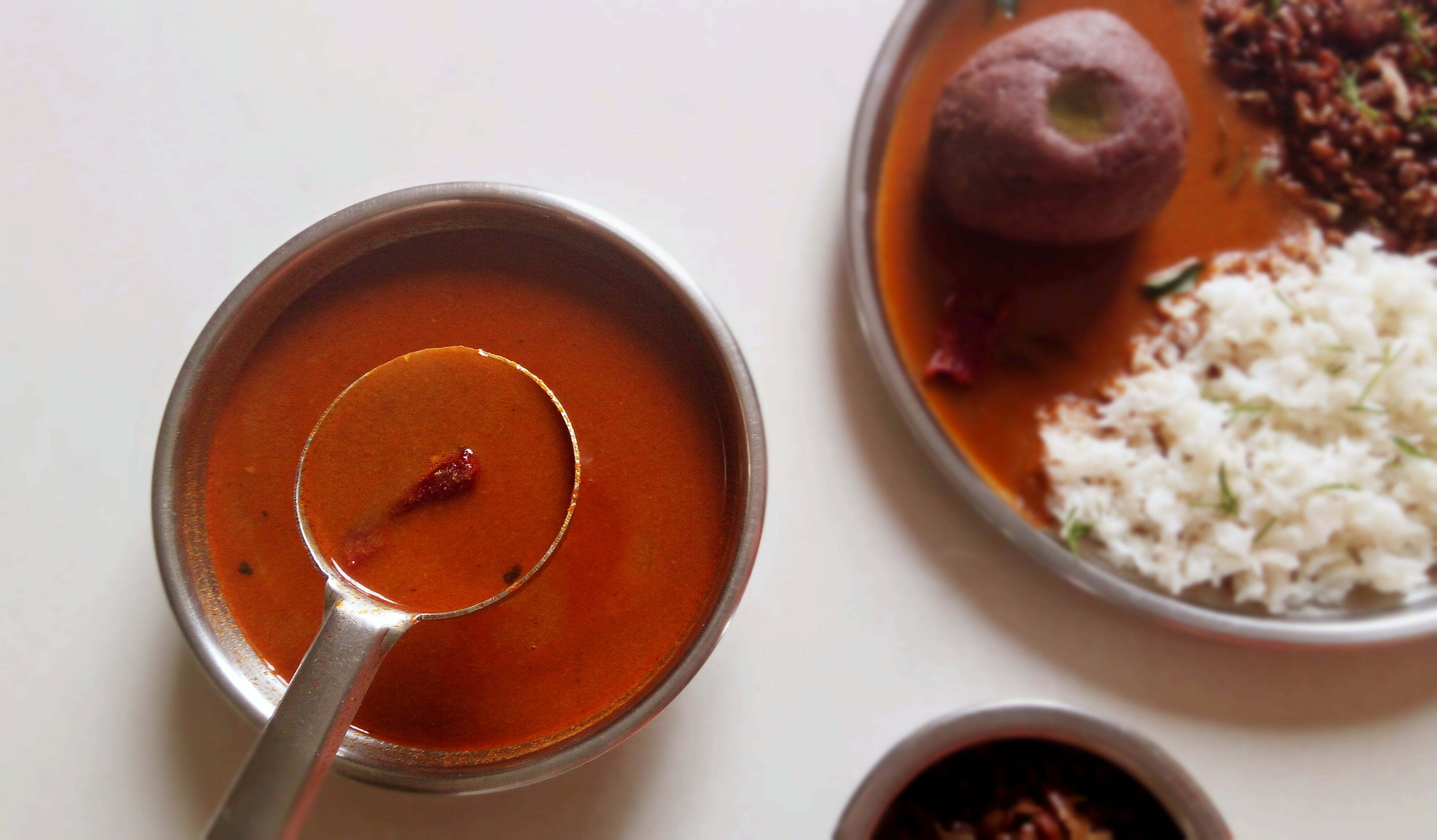 Researchers have even found that regular intake of horsegram aids in weight loss.  Horsegram curry can be done either using sprouted horse gram or regular one. You can cook horse gram  by soaking overnight or can even be cooked directly  but it takes more time. This curry is my home's  all time favorite. Especially the sauteed Horse Gram with greens, tastes delicious.  Curry enhances in taste when you reheat and eat on following day.
Other similar Curries/ Saaru from Karnataka Cuisine are : Molake Huruali Kaalu Saaru , Masida Soppu Saaru , Obbattu/ Holige Saaru and Drumstick Sambar 
RECIPE CARD FOR HURULI BASSAARU AND PALYA
Ingredients:
Category:Vegetarian|Prep Time:15 Minutes
Cooking Time:30 Minutes|Serves: 4-5
Sprouted Horsegram: 11/2 Cup
Amaranth Leaves: 1 Large Bunch
Tamarind Extract :2 Tbsp
Grinding for Curry:
Onion Raw :1 Medium
Garlic Raw:4-5 Cloves
Burnt Onion:1 Small/Medium
Burnt Garlic:4 Cloves
Tomatoes:1-2
Jeera/Cumin Seeds:½ Tbsp
Black pepper Corns: ½ Tbsp
Fresh Grated Coconut:2 Tbsp
Red Chilly powder:1 Tsp
Coriander Powder: 1Tsp
Sambar/Curry Powder: 3 Tbsp
Turmeric:¼ Tsp
Tempering for Curry:
Onion: ½
Garlic:4 Cloves
Curry Leaves: 2 Strings
Redchilly: 2 Broken
Black Mustard Seeds: ½ Tsp
Oil: 2 Tbsp
For Palya:
Onions:3 Medium
Green Chillies: 4-6
Mustard Seeds: ½ Tsp
Fresh Coconut grated: 2 Tbsp
Fresh Coriander leaves chopped: 2 Tbsp
Lemon Juice:½ Tsp
Oil: 1 Tbsp
Salt
Step by Step Directions :
Clean & wash sprouted horsegram ( you can even add without Sprouts) ,add  3 cups of water,1 teaspoon salt put it in a pressure cooker and cook for 1 whistle( if not sprouted it takes 3-4 whistles).
Once pressure is released add Amaranth leaves (you can use Drumstick leaves also,it tastes awesome) and cook for another 5 minutes and turn off the gas.
Once its cooled strain the stew using colander and separate stew  which is used for preparing curry and horsegram for palya/Stir fry, keep it aside.
Put onion and garlic into a skewer and burn it on direct flame,till outer layer of onion looks dark.Once done grind it into a smooth paste along with the above mentioned ingredients  for grinding.
Take a pressure pan add oil, mustard seeds,curry leaves,crush onion and garlic fry and add the grounded paste fry well till oil leaves and nice aroma comes for this add stew and water and leave it to boil,adjust salt.
You can cook for one whistle also. Bas Saaru/Stewed horse gram Curry is ready to serve with ragi balls and rice.
Palya / Stir fried Horse Gram
Above cooked horse gram and amaranth leaves is used for preparing Palya/Stir fry.
Take a wok ,add oil,mustard seeds once crackles ,add onions and green chillies fry till onion looks translucent and cooked horse gram and amaranth leaves saute it adjust salt.
Garnish with coconut,coriander leaves and lime juice.
Tasty and delicious sauteed horsegram/urali bas palya is ready to serve.
This will become a side dish for the above curry 🙂